instead of dragging my feet like usual, I wanted to throw something together early in the year for all you faithful listeners. this mix takes elements of funk, hip hop, breaks, electro, a touch of house, and a few places in between, and smacks 'em together for an hour of ass shaking bass enhanced grooves.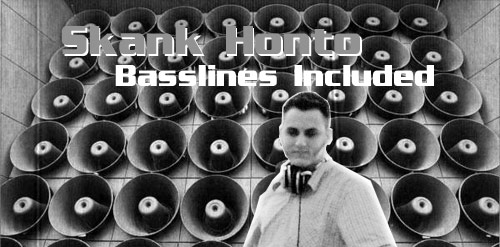 Skank Honto - Basslines Included
recorded January 2011
right click, choose Save As to download
tracklisting:
1) J Roc - Mr Bigstuff
2) DJ Nemo - Bojangles
3) Featurecast - Kick It
4) Ali B & Nick Thayer - Back To You
5) Stevie Wonder - Signed, Sealed, Delivered [Skank Honto ReRub]
6) Dizzy Rascal - Sirens [Bezwun Banger Mix]
7) Red Hot Chili Peppers - Under the Bridge [Pimpsoul & The Funk Hunters Edit]
8) Funkanomics - Boogie Nights
9) DJ Wood - Turn Me On [Stickybuds Drunk Ass Edit]
10) The Sly Players - Turn You On [Umbo & Pips Remix]
11) Niko - Disco Master
12) CMC & Silenta - Pata Pata
13) Stereomorph - Breakin' Boogaloo
14) Lee Mortimer vs M&S - Booty Nugget [D-Funk & Some DJ ReRub]
15) Kele - On The Lam [Stanton Warriors Remix]
16) Junior Jack – E Samba [Farley & Corin 2011 Remix]
17) Plump DJ's - Light Fantastic
18) Prodigy - Spitfire [Future Funk Squad's 2011 Remix]
19) Passion Pit - Little Secrets [? breaks remix]
20) Kultur & Colombo - The Good Times
21) Bob Marley - Lively Up Yourself [Morlack Mash]

enjoy, and feel free to lemme know what you think as you don't need to register to leave comments on this blog (so yes, slag away!).